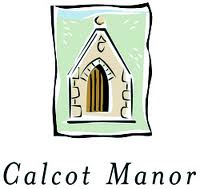 We needed somewhere beyond special in the Gloucestershire side of the Cotswolds to celebrate the last few days of a best friend's unmarried life. Calcott Manor seemed to be the obvious choice. Located in the small village of Tetbury, it is surrounded by rolling countryside and known for outstanding food and a tranquil spa. This manor ticked all the boxes. After a slightly stressful, sticky drive from the city, I quite literally fell into the arms of Calcott. It is the kind of place where you feel instantly relaxed and very much at home.
Our rooms were beautifully decorated with real country elegance.  After a quick freshen up it was straight to the Conservatory Restaurant. There is another dining option which is slightly more casual – The Gumstool Pub – a menu packed with all the classic British favourites such as shepherds pie, fish and chips and the Calcott burger. If the conservatory food is anything to go by, I'm sure the Gumstool does more than justice to those  British classics.
The Conservatory is for fine dining and we definitely dined finely. The menu was mainly British inspired, with some interesting European touches and good use of seasonal produce and ingredients from the surrounding area. I had been recommended the scallops to start, sauteed and served with Jerusalem artichoke, bacon jam, white balsamic and treviso. They certainly did not disappoint. For main, I went for the daily special, a fresh Salade Nicoise with strips of tuna steak. If I do say so myself, I make my own mean Salade Nicoise, out of habit always using the canned version. This salad blew mine off the table, it was super fresh and had the right balance of egg, potato and tuna, and speaking of tuna, the steak was tender and cooked to perfection. I will probably never make my own Salade Nicoise again! The finale, my favourite,  a dark chocolate torte and Calcott's was rich, strong and bitter, exactly how it should be. the Mille Feule was another highlight much lighter!
A wonderful country retreat, you don't always need to leave England to have a holiday, sometimes the best ones are the British ones!